PTFE Tube Suction and Discharge Hose

The most flexible hose of its kind
---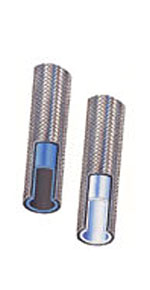 STAINLESS STEEL BRAID SMOOTH BORE HOSE PTFE LINED
White or black antistatic PTFE available 1/8" ID to 1-1/2" ID. High pressure rated. The most flexible hose of its kind. Fittings: 316L stainless steel standard.
Temperature rated: -100 degrees F to +500 degrees F.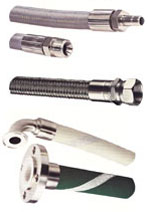 SILICONE COVERED STAINLESS STEEL BRAID SMOOTH BORE HOSE PTFE LINED
Platinum cured silicone cover over stainless steel braid smooth PTFE tube. The extruded silicone cover over the stainless steel braid produces a ultra smooth, easily cleaned exterior finish.
Temperature rated: -100 degrees F to +500 degrees F
RUBBER COVERED PTFE LINED CHEMICAL AND PHARMACEUTICAL STYLE HOSE
Smooth bore liner featuring a tough EPDM rubber cover for rough handling and flexibility even in large sizes. Size 1/2" ID to 4" ID available. PTFE lined rubber cover suction and discharge hose can safely handle the purest materials to the harshest chemicals. The PTFE tube can be extended through the fittings for a zero entrapment.
Temperature rated: -40 degrees F to +350 degrees F
CORRUGATED & INTERLOCKED
There are basically two types of metal hose and pipe available for general industrial use— corrugated and interlocked. Both of these types are available in a wide variety of constructions, sizes, metals, pressure ratings and flexibility characteristics.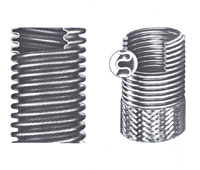 CORRUGATED METAL HOSE AND PIPE
Corrugated hose or pipe can be supplied in many forms. The corrugations may be closely or openly spaced. The assembly may or may not be braided. The metal thickness, corrugation count and other factors may be changed to meet varying requirements. All corrugated hose derives its flexibility from the bending of the corrugations. The performance characteristics of a metal hose or pipe are the result of many variables. To select the proper product for a given application one must consider size, material, temperature, pressure, motion, length and fitting requirements.

INTERLOCKED HOSE
This hose is an interlocked length of profiled strip, wound into a tubular shape. Interlocked hose can be made pressure-tight by winding in strands of cotton, copper wire or other packings. Various shapes or interlocking may be employed. In all cases, interlocked hose gets its flexibility from the sliding that occurs in the interlock. Hose diameter is the other factor which affects flexibility.
Selecting the most suitable interlocked hose for an application involves other factors, too, such as: leak tightness, ruggedness, flexibility, corrosion resistance and temperature resistance.