Conveyor Belting

Resistant to the deteriorating effects of moisture and most chemicals
---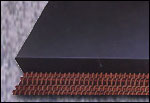 Conveyor belts have two basic components: the carcass, or strength member, and the rubber, which protects the carcass.
Most conveyor belt carcasses are produced from fabrics that use polyester or nylon fibers, or a combination of the two. These fabrics are completely resistant to the deteriorating effects of moisture, and are resistant to most chemicals. The inherent strength of the fabrics give exceptional resistance to cutting and snagging by abrasive or gritty materials, and retain their strength indefinitely.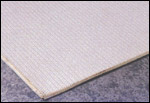 The rubber used in conveyor belting, whether natural or synthetic, is compounded to protect the carcass from the material being conveyed, and from any external conditions which could shorten the belt's useful life. The conveyor belt design seeks to ensure comparable service life for both the cover and the carcass, so that they wear out at the same rate, regardless of conditions.
| | |
| --- | --- |
| Cover and Carcass | Fabric Weave |
General Purpose Belting


Monofilament Package Handling Belting
This belting style is suitable for a wide range of package handling applications.


SBR Plied Carcass Belting
SBR impregnated plied carcass belting is a good choice for most package handling and live roller conveyors, and as a replacement for leather belting. Typical uses include power transmission, slider bed and accumulating conveyors, and hot stock and water conveyors.

Air-Slide Material
Used on air gravity conveyors.
Available in 4-, 5- and 6-ply construction.

Nitrile Impregnated Belting
This needled carcass conveyor belt is well suited for high use applications such as accumulators, magnetic conveyors, box board and corrugator systems, live roller conveyors, slider bed package handling conveyors, hot pan takeaway, and in light duty power transmission systems.

Monofilament Plied PVC and Polyurethane Food Grade Belting
This belting style is suitable for a wide range of food processing applications.

PVC Interwoven Carcass Belting
This economical belting materials is used in many food processing applications, including bakeries, meat processing and food packaging.

Hot Stock and Water Belting
This belt is typically used in the rubber curing process. The silicone cover has good release and the carcass resists moisture. Other covers and constructions available.
For information contact TRICO.

PVC Impression Incline Belting
(Rough Top, Hilltopper, Cleated Decline patterns) This economical package handling belting material is well suited for bagging operations and a wide range of other incline conveying applications.

SBR Plied Incline Belting
The "tacky" SBR cover material on these versatile incline belts makes them the ideal choice for box board conveyors, box feeder systems, and a variety of other package handling applications where good gripping characteristics are important.



Carboxilated Incline Belting
(Rough Top) This belting material features the highest abrasion resistance for the most severe incline conveying applications, such as box board and heavy case handling.

RMP Covered Belting
This is a very economical alternative to nitrile in the food processing industry. It has all the qualities of nitrile rubber and is easier to modify with cleats and V-guides.

PTFE Covered Belting
PTFE is the answer to hot and sticky food applications. Typical uses for PTFE covered belting includes chocolate, gum and other confections, accumulators, case sealers and other high temperature conveying applications.



PVC Elevator Leg Belting
This long-wearing, economical and trouble-free belt is constructed with a solid woven carcass for bucket elevators used to convey pellets, oats, milo, corn, wheat, wood chips, fertilizer, sand, and moderately oily grains.
 

Nylon Core and Drive Belting

 
 
 

Nylon Core Tapes
This belt is suitable for light and medium drives as well as for package handling. It is specifically designed for applications such as strappers, labelers, twisters and winders. It is also used in the printing industry for sheeters and slitters.

Medium and Heavy Duty Nylon Core Drive Belting
This highly flexible belt is designed for two pulley or serpentine drive systems. Common applications include roll stands in flour mills, feather pickers in poultry plants, tube winders, twisters, folder/gluers, woodworking machine drives, can elevators, and capstan drives.


 
 
A COMPLETE LINE OF INDUSTRIAL V-BELTS


MULTIPLE V-BELTS

Feature ISO-Dynamic matching and cord stability assuring precise balance and long belt life. Oil, heat resistant and static dissipating.

Cable cord construction to 150"


MULTIPLE V-BELTS
Feature ISO-Dynamic matching and cord stability assuring precise balance and long belt life. Oil heat resistant and static dissipating.

Tire cord construction over 150"



 

X-D-V®-BELTS
Plus power belt for single belt drives. Features all premium materials and is identified by a blue strip.

® T.M. D-A CO.



FRACTIONAL HORSEPOWER V-BELTS
Oil and heat resistant. Static dissipating. Power balanced construction for general purpose application.

UNI-V® BELTS
Unitized to prevent belt whip and turnover under pulsating and shock loads — fits standard 3V, 5V and 8V sheaves, in addition to A, B, C, D and E sections.

® TM DA CO.



HTD BELTS
Positive problem-free power transmission in the high-torque range. Permits no-stretch and are corrosion and abrasion resistant.



SYNCHRONOUS BELTS
Combines the advantages of the chain and gear with all of the advantages of the belt. No stretch, no metal to metal contact, no constant lubrication.



V-RIBBED BELTS
Full contact gives solid support under strength member. Belt position remains constant from no load to full load.



DOUBLE V-BELTS
Relieved cross section assures maximum flex resistance. New control methods provide uniform cord section.

DA 358® V-BELTS
For highly compact, plus-power drives. The true premium horsepower belt oil and heat resistant static dissipating.

Molded notch & rubber edge
construction for 3VX & 5VX sections.



DA 358® V-BELTS
For highly compact, plus-power drives. The true premium horsepower belt oil and heat resistant, static dissipating.

RAW FLEX® MULTIPLE V-BELTS
Premium belt of the industry provides ultimate horsepower capacity on sub-minimum diameters.
AX, BX, CX sections.

® TM DA CO.




VARIABLE SPEED BELTS
Featuring crosswise rigidity and length stability for optimum performance. Molded notch support section for minimum diameters.



OPEN END V-BELTING
Used on drives where endless V-Belts are not practical. High fastener tear-out resistance.

STURDY-LINK
Pre-stretched link belting available in regular, oil-resistant and static-conductive types.
 

DEEP GROOVE "CC" BELTS
Greater resistance to turnover and whipping on long center drives. Extra strength for severe loads.